On 21 September 2019, Junior Chamber International (JCI) Cameroon convened a Peace is Possible Dialogue as part of the Global Peace 100 Cities 100 Dialogues. The event was hosted in partnership with Cameroon Youth and Students Forum for Peace (CAMYOSFOP), Local Youth Corner (LOYOC) Cameroon, Global Peace and the NOLANGA Study Centre in Yaoundé, Cameroon.
The dialogue was hosted on International Peace Day in conjunction with JCI's annual World Clean-Up Day and the Peace Is Possible campaign. International Peace Day provided the perfect opportunity for valuable insights to be shared on the ongoing global challenges facing our societies. The event hosted a panel discussion focusing on Youth Action for Peace with representatives from JCI, LOYOC and CAMYOSFO encouraging young people to be advocates for peace. The speakers included Christel Youbi (JCI), Vanessa Kamsu (ACJEC), Besong Mallet (LOYOC, Jean Serge Nguiamba Mbile (CAMYOSFOP). The dialogue wasfacilitated by Noutcha Issoy Prudence Lubiche, a Commonwealth Youth Peace Ambassador and Cameroon National Youth Network coordinator. Key themes of the dialogue included the action of youth in peacebuilding, climate change actions for peace and the integration of internally displaced people.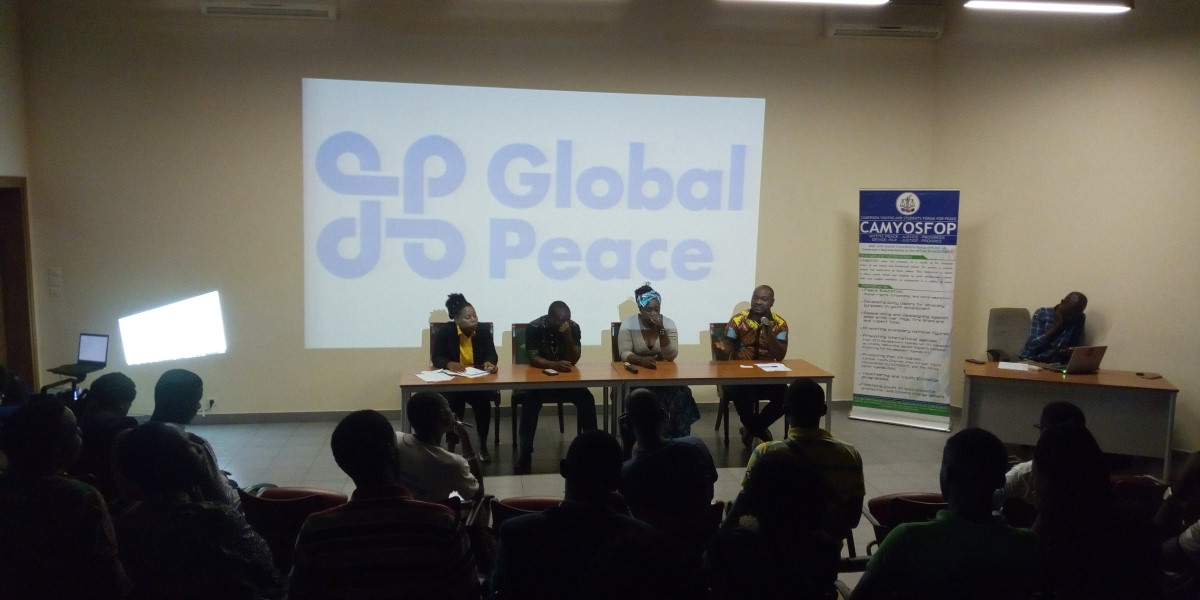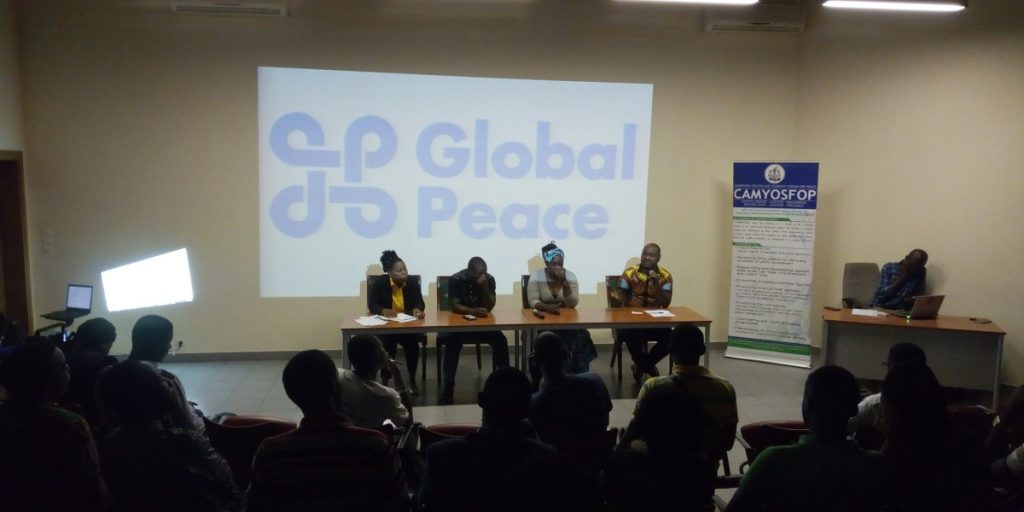 In addition to the Peace Talk, there were different segments during the day-long event that highlighted the theme of peacebuilding and the role of young people to promote peace. This included the address on the Role of Youth in Fostering Dialogue and Peaceful Solutions to the crisis in Cameroon by Nnane Ntube Anne and Fonyuy Medeatrice which was done through poetry and story-telling. Ndah Praise Ketu shared insights on the attitudes of a Peacebuilder, and there was also an Arts for Peace exhibition by Karngong Clarence which portrayed peace through artistic representations. The dialogue concluded with a musical performance by Nyasa Dobgima Fokugang highlighting shared values and cooperation through his song Hate Nobody, as well as a Comedy Performance on "Peace a prerequisite for a successful society" by Bate Emmanuel popularly known as "De Oracle."
The dialogue held on International Peace Day ended with youth making a commitment to promote peace in Cameroon through respect and understanding of one another. JCI Project Director, Yves Stephane Ngaleu, who played an instrumental role in coordinating the event, reminded participants that for peace to prevail, "we must bring hope to the hopeless, opportunity to under-served, empowerment to the oppressed and dignity to the disrespected."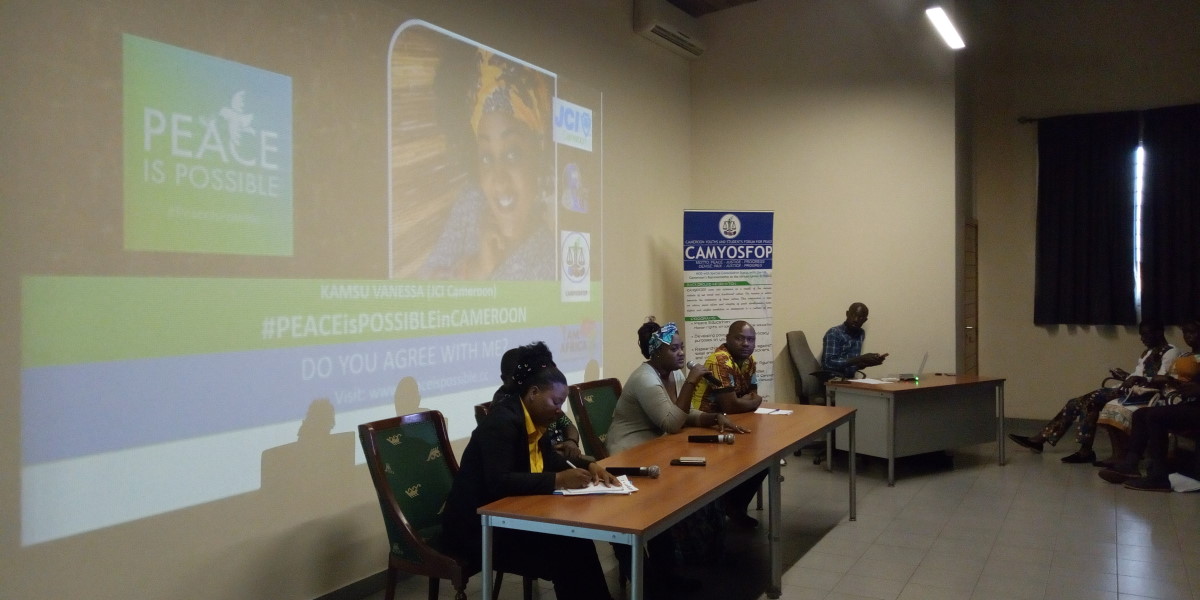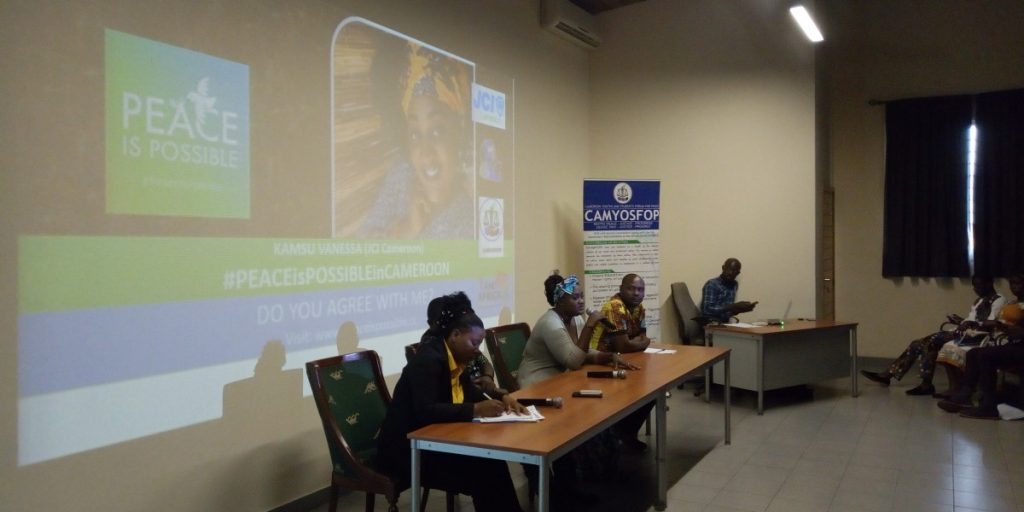 We would like to thank JCI Cameroon and all partners involved for an incredibly stimulating discussion and specifically for giving their time and resources towards ensuring the success of the dialogue with peace as the core focus.